s
If you have anything negative to say about LeBron James, keep on hating because that's really all it is at this point. And that's fine, just as long as you admit it instead of passing it off as legitimate, objective opinion. James has had a remarkable career since his high school games were being televised, and over the course of his Hall of Fame career. He is one of the GOATs.
The same goes for Kevin Durant and his decision to sign with the Warriors, and the Warriors as a whole. It is what it is, the decision was Durant's, and a championship team mastered their salary cap situation to land him in free agency. I wasn't too fond of the move myself, and I certainly wish that KD gave a bleep about expanding his game while in OKC. The way I have to look at it, is that at least he's expanding his game now. He's not turning out to be Carmelo Anthony. And his career wasn't cut short by a scary foot injury, something that has plagued sub 7-footers in the past.
Actually, I'm not sure if we should call them the Golden State Warriors or the USA Warriors, but let's dive in.
Golden State is an interesting team to keep an eye on. Will the core buy in when it comes to contracts and possibly joining another team? For all we know, Steph curry might have dreamed of playing for the Charlotte Hornets, where he grew up and watched his father Dell play. Yes, it's crazy that he was born in Akron, Ohio, where we all know King James came from.
Along the same train of thought, the same can be said for Klay Thompson following his father's footsteps and joining the Los Angeles Lakers. Also, not to start a rumor or anything, but if you pay attention to Klay's interviews he exudes confidence. He also leaves the door open with statements such as being one of the best two-way players, it's nice to play with a MVP, let alone two. Thompson, in these NBA Finals, is the guy that benefits the most when Steve Kerr is healthy and coaching on the sidelines. He just might want to see how big his star can get.
Draymond Green was born in Michigan and went to Michigan State. When Yahoo!'s Adrian Wojnarowski reports Green had significant interest in signing with the Pistons back in 2015, you better believe it to be a possibility. Woj is the man, by the way. Green even wrote a letter to former Pistons Defensive Player of the Year, Ben Wallace, about how inspired he was and how much his play meant to him.
KD didn't begin his career in Golden State so, who's to say that he'll stay in the Bay until he hangs up the jersey? I doubt that he'll ever make a return to OKC, but the other 28 teams would do whatever it takes to acquire him. Which, in reality, means that there's 6 others teams around the league that could offer him title runs to add to his "legacy." Yeah, legacy, if you will.
Those are the four all-stars that make up one of the best cores, sure, ever. Keyword, one of, it remains to be seen where they end up. Will they stick together through thick and thin to have someone feeling a way when it's his summer to negotiate a new contract? Will they have more than two titles? Will KD be part of a 2nd title run? It's what we all expect, but injuries change lives and money changes careers. There's a reason, nowadays, that it is such a challenge for teams to keep their players for awhile, like during the old school era.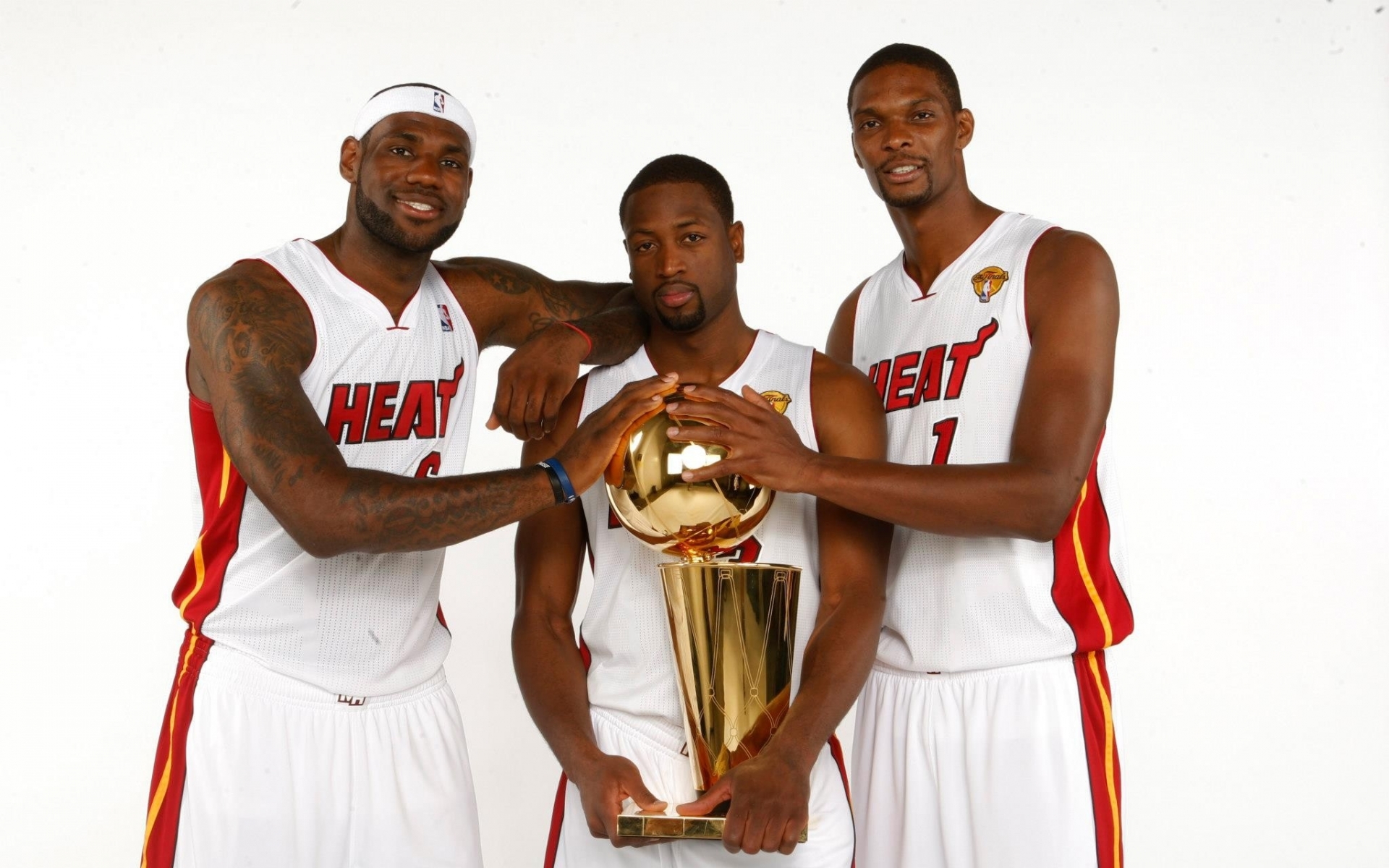 Kobe Bryant and Shaquille O' Neal weren't the best of friends or anything like that, yet their dominating ways wasn't strong enough to keep the dynamic duo in purple and gold together. Yes, they robbed the Lakers, and themselves, of more titles. I say, at least one more.
James and Chris Bosh were recruited to join Dwyane Wade in South Beach. They snatched two rings in four Finals appearances. I would consider that run a success, although, you probably don't and it was short-lived. Will KD on the Dubs also be short-lived. Heck, James even went back to his hometown, delivered them a championship, and I still think that he has a wandering eye to leave again. The Cavs aren't well run, neither are they well-coached. Yet, many don't believe James' accomplishments to be great enough.
Who else goes to Cleveland, turns them into a contender, and actually brings home hardware? Who was their last big name acquisition that wasn't the hometown kid that turned into LeBron? Who's going to Milwaukee, Utah, or Phoenix to imitate that? LeBron leaped to something brand new in Miami, brought home some hardware, and removed himself from that winning environment to go back home. That's where he became the leader that D-Wade, Pat Riley, and that experience helped groom him to be.
Here's his interview heading into Game 4 of the Finals, where the Cavs trail 3-0 and the Warriors aim to sweep the entire postseason:
Plus, James had to play so many minutes this season and postseason, for the fact that Kyrie Irving and Kevin Love can't carry a team to the postseason. It's true, Love couldn't anchor the Minnesota Timberwolves into the picture before getting traded. Irving couldn't prove that he could stay healthy, and on top of that, he didn't lead them to many wins. The winning happened after the King's homecoming.
Now, I'm just as amazed as you are when it comes to the spectacle that is Irving, aka Uncle Drew. The guy has moves and is a pretty finisher, that's for sure. But man, I just can't allow myself to be sidetracked by his 5 miraculous plays. Irving doesn't make his teammates better, they get cold during the game because they're not getting involved, he isn't the best distributor, still has a ways to go to become a leader, and the dude doesn't have the motor to play consistent defense.
I love his talent, there is untapped potential and that's evident. I do realize that he's an all-star, but so are DeMar DeRozen and Melo. Irving plays like a shooting guard, despite being listed at point guard. He plays very similar to DeRozen, meaning that they're basically one on one players, and that's where it ties Melo into this equation. It's great that they're all-world when playing one on one, but that's the type of player that can't lead and win games. Kyrie should outlast LeBron in the league since he came in at a way later period. What has he really proven though, to merit being an elite point guard, let alone first or second on some of your lists?
How does a guy that didn't even play double-digit games in his final season before being drafted, with multiple seasons playing less than 70 games, earn that elite label when he plays sidekick to the best player in the game? His story isn't written in stone, he's not the black hole that Melo became, but his style of play is getting too close to DeRozen's in my book. I want to see him take better care of his body to play the most minutes on the roster. He shouldn't be playing around 30 minutes per game or less anymore, those are Tony Parker minutes. Now that I think about it, that's a great player for him to watch film of. Parker was quick with the ball, had the floater down pact, and would finish acrobatically at the rim. Kyrie can be a better version because he can stroke it from behind the arc, he's even faster and more athletic.
When it comes to K-Love, he's being himself when he makes a dedicated effort to crash the glass and throw those long outlets. I'm surprised that isn't a strength that the Cavs have taken advantage of. Sure, LeBron or Kyrie could be leaking out and unstoppable on the fastbreak, but that could help their teammates get easy baskets and into rhythm as well. That could get Kyle Korver and JR Smith going, especially when Kyrie goes into his isolation mode with everyone standing still and watching.
All of that brings me to criticizing coach Ty Lue. A whatever player at the NBA level, I keep getting flashbacks of Allen Iverson stepping over him after a corner three in the 2001 Finals when I see his face on TV. No creativity in his offense, he's not utilizing the many talents on his roster, and he's not highlighting the major talents within the big three. Yet, David Blatt was let go for him?
Simply put, James should be playing more point forward from the low, mid, and high post areas. Why force him to take on the entire defense, virtually every single play, 1 on 5, only to pass it off to a lesser player? Feed him the ball beneath the arc and let him go to work, a la Kobe Bryant, Jason Kidd and Magic Johnson. LeBron's been capable of playing so many minutes for so long, this simple addition to his style and any team he plays for, could have him playing at a high level for another 7 years. Yes, I fully believe that. Oh, and what the hell, allow LeBron to set screens and do damage off the pop or the roll. Apparently, this is all rocket science. These things may occur once in awhile or a few times, but not nearly enough.
The basketball die-hards appreciate Irving's talent, and might even go as far to give him a pass because teammates aren't helping with the scoring load. The way I see it, Irving doesn't help Smith, Korver, or even Love get their shots in good spots. Plus, it's obvious that the ball stops when he touches it. Irving is an intelligent player, which is why Coach K brought him to Duke. He maybe asked to be more of a scorer, but there's more game in him than that. I'd have him coming off of some screens like Iverson and Reggie Miller use to. Paul Pierce was a playmaker and a scorer, who was allowed to come off of screens and he would even play point forward. Kyrie has a nice fade away, he's tough to guard, he's one of the best finishers, he could play closer to the basket as well.
Love is an unselfish player. Aside form the outlet opportunities, play the man in the high post. Not the three point line, that's not the high post, but the elbow and free throw areas. He can hit that turn-around jumper. He can find the cutter or the open shooter in the corner. His big body will allow the other two all-stars to get hand-offs from him and do what they do by getting to the rim. Love could be setting screens, and not all screens have to be at the top, he can set them at the wing and score in any way after the pop or the roll. When you have a guy that can shoot from the perimeter, you want to free him up with some screens too, even if he is 6'10. It just gets the defense moving, screens can get the screeners open on a backdoor cut, and Love will have space to put up high percentage mid-range shots.
It's not all about the three-ball. The Warriors, like a boxer, try to get inside to soften the body. Then, they go for the kill. The Cavaliers don't have the same type of talent that the Warriors have, but they can better use their talent to better stay in games and get some more W's. That's how they can improve without counting the draft, free agency, or making a trade.
As for the 2017 Finals, this time around, the Dubs are likely to sweep the Cavs after taking a commanding 3-0 lead. That game 3 in Cleveland, at the end, just took the heart out of the entire arena, including the home team. That KD pull-up three over LeBron is the signature shot of his career so far. I expect LeBron and company to return, but there should be a new impact addition or two. By impact, I mean rotational players. Could be a starter, could be a high tier bench player. Reflecting on their roster form last year to this year, they weren't able to replace the distribution and defensive ability of Matthew Dellavedova. They needed that in this series, the bench was weak, and only LeBron got others involved, with some beautiful passing while were on the topic.
It'll be their turn to make a move on the chess board. Golden State adding KD put them ahead, and since the Cavs already have LeBron (for now), they need to counter at another spot and I would recommend a wing player. Easier said than done, the whole Association basically needs a wing player.
That's all I have this time. I could go on and on but I tried to sum things up for you. This is me cutting myself off because I think you get the gist of what I'm saying. Great players can make slight adjustments to their game, use different skills that they have because they are versatile enough, plus they're all that damn good.