What I enjoyed the most about the 2017 NBA Finals is that the best team put on a display going head-to-head with the best player in basketball that averaged a monster triple-double, the first to do so in Finals' history. Everyone that was expected to play exceptional basketball did just that. I don't have a negative thing to point to at the stars that headlined this spectacle, although short-lived, wrapped up in 5 games.
The first two games were sleepers. The NBA Finals picked up for the last three games of the series. The only thing that bothers me about the Association, is that we've gone into the last few seasons knowing that Golden State and Cleveland were on a collision course. If LeBron James doesn't leave Cleveland again, the majority of us would expect them to clash for a 4th consecutive Finals next year. Not to dismiss the free agent possibilities of Steph Curry and Kevin Durant, but that's closer to being a lock than I would consider LeBron.
Games 3 and 5, the Cavs played good basketball, for the most part. The tough thing about that, they were only able to pull off a game 4 victory at home. At least in the clincher on the road, you can see that they left it all on the floor. They even went into the series with more 3-pointers than the opposition, but they were only able to catch fire in that game 4 win with a ridiculous 24 trays.
The Warriors were that damn good this season. The records that they are breaking and the things that they continue to accomplish is special basketball. This championship showcases their selflessness. They truly did whatever it took to win. Three all-star players, one in which was already a two-time MVP, and winning one ring after back-to-back Finals' appearances was simply not enough. The Dubs weren't content with that, lured another MVP in Durant, fast-forward a year to this very day where they are celebrating their 2nd title in three years.
No matter how great a player may be in your eyes, that doesn't mean that other die-hard fans and analysts don't have questions about them. I needed to see the point guards bring their A-game on this platform. There's nothing that I was looking for  them to do in the regular season, or even in the postseason leading up to the trilogy.
This is the series that Curry turned me into a fan. He finally brought his A-game to center stage, consistently. I understand a team game planning to stop a special player by showing him multiple looks, so I can move past his game 4 letdown, and it was a letdown. That's where he was contained to only 1 point in the first quarter and held scoreless in the final frame. Even though they did lose, it was glossed over because the Warriors held a 3-1 lead. It also helped to see Durant, James, and Kyrie Irving demand all of the headlines from that game.
Irving proved something to me but I'm not so sure what I have to say is complimentary. Look, you may like players such as Carmelo Anthony and DeMar DeRozen, even Derek Rose pre-injury, but it's all circumstantial to me. Irving is a standout talent and he proved to be an elite ISO player. I liked his grit and will to put the ball in the basket. However, his scoring prowess has taken him to the border of being a hero ball player. You know, the guy that will only pass if he's absolutely double-teamed. The guy that doesn't necessarily facilitate the offense and make his teammates better. I'm not saying that he doesn't have a nice handle, shot, or isn't a great finisher at the rim. It's just, when he gets the ball, that's usually the end of ball movement.
There's room to grow, which is the complimentary part here, because he's already an all-star, he is a champion, and he's an Olympian.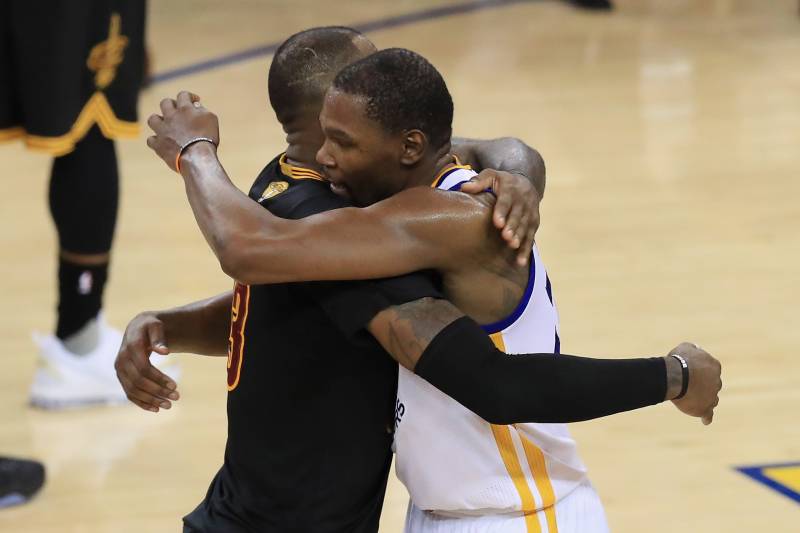 I won't entertain any hate for Durant and his decision. No, I wasn't a fan of the move but the man delivered. He has to continue to deliver after doing such a thing, but I will never downplay how great it is to watch people succeed. In the end, regardless of emotions and personal preferences, the NBA is a business and I get that. These players have legacies to build and accolades to achieve.
I also won't entertain any hate for James, who had a sensational performance in these Finals. I fully believe that he has 7 prime years remaining, that is if he tailors his game to playing more point-forward, much like Scottie Pippen and Magic Johnson. James can even start his offense closer to the rim, around the high post, and add more Karl Malone to his game. The guy can play as long as he wants. With that said, I think he's done enough for Cleveland, which continues to be poorly run and coached, by the way.
Who else would have left two titles and four straight Finals' appearances in Miami to play for their hometown team AND deliver a title to end their championship drought? Anybody making that type of impact anywhere else? Anybody jumping at the opportunity to put Boston over the hump? Anybody trying to turn Phoenix or Milwaukee into a contender the very day they put on a jersey in those places? Now that's perspective.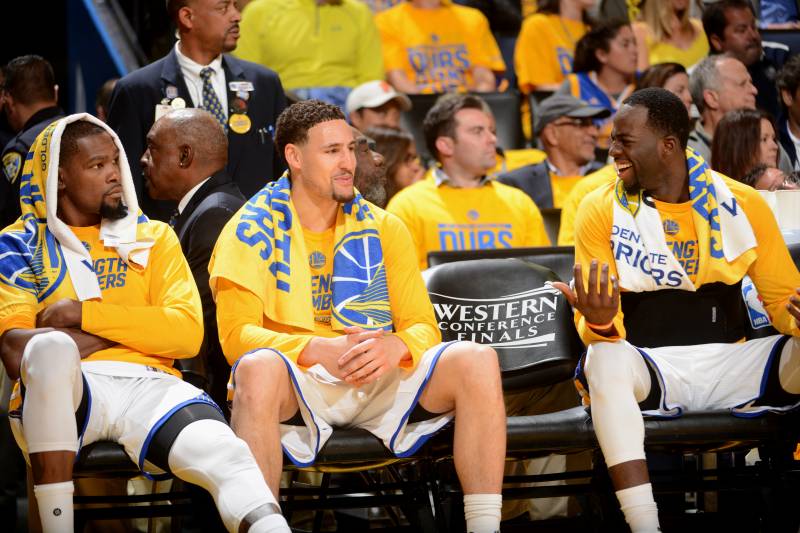 Coming out of the trilogy, I'm thinking of three things:
The basketball world has been spoiled with legends in each decade. Without downplaying how great these current players are, I don't know how long it will be before we see the next possible GOAT. Maybe not all the way to the top like that, but I mean GREAT, now in the way people overuse that word. We all know that KD is special, and he is and I like his game, but he just isn't LeBron. That's fine, it's not a knock whatsoever, there just aren't that many legendary players to appreciate watching to that once-in-a-lifetime level. The league has a lot of talent, suspect work ethic when it comes to development, and a different mentality that doesn't necessarily show killer instinct. You just cannot instill the "IT" factor into someone.
Klay Thompson has a nice game on both ends of the floor. He says all of the right things, but he'll chime in with how he really feels from a confidence standpoint. Whether by trade or possibly walking away, to play for his father's Lakers or not, Klay seems like he wants to see how big his star can get. He's an all-star player, a two-time champion, and an Olympian. He's gone to three straight Finals, two of which he was the #2 guy on the team, one in which he brought home hardware. Considering the $200+ million about to be invested into Curry and Durant, the writing has been on the wall since day one. Hasn't it?
Draymond Green isn't that stellar of an offensive player. I'm fine with defenses leaving him as the open man to take a shot from distance. He might make a couple. He's a guy that will hit a shot here and there, he'll set the screens, crash the boards, and find the open teammate. He's very unselfish. Defensively, he'll hit that side of the glass, he's tough to get past one on one, he makes the perfect rotations to help, and he plays bigger than he is. It's the intangibles that he brings to the table, along with his vocal leadership and old school mentality, that makes him the glue of the now, two-time NBA champions. Unfortunately, though, I don't think he would be a star on a so-so team. Fortunately, he's in the right place at the right time and playing his role as well as it can be played. And, he's the leader that they need.
Congrats to KD for winning his first title and Finals' MVP. The Warriors will be on our screens in June for the next few years or so. They would need 2 more rings, maybe a third, to get that dynasty label from me. Five rings, one for each finger, sounds like a dynasty to me. Right now, they're at two.
The Cavs will be back as long as James sticks around. I'll give these two teams a part IV and a part V without another team disrupting their groove.
What a time for sports, huh? The Patriots are trying to win another Super Bow. The Pittsburgh Penguins just went back-to-back for the Stanley Cup. The jury is out in baseball. The San Francisco Giants won a pair in the last five seasons. The Kansas City Royals lost in the World Series before winning one. The Cubs broke the curse and are the defending Champions.